Marj's Light Story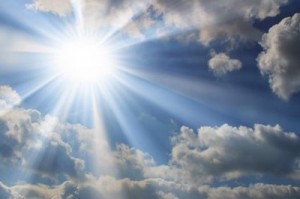 A Story of Light and God's Amazing Presence
By Marj Steiner
On June 15, 1996, Jim and I were celebrating our 28th wedding anniversary. My husband was also performing a wedding in Madison WI for the son of our good friends. Jim had gone ahead, I was to follow. I did not show up! As I was getting dressed, the phone rang in our room. It was our oldest son who was living in New York. The police had tracked down our two sons. They were trying to find us. The message: Our 19-year-old daughter had died in an accident in London, England! That possibility is a parent's worse fear when they send their child off on a trip. Anne had gone to Norway with the St. Olaf College Band, stopping on the way home to see her best friend who was going to school in London. The next day she was to visit my sister Lynne and her husband in Oxford.
Our church immediately came to our aid. They made it possible for our whole family to go to London to make sense of what had happened. Even the government helped. Only one of us had passports. They allowed us to get the passports at the Embassy in London. A church member arranged for an apartment for us in London. We spent a week, meeting with the authorities in the morning, and then sitting at café tables, reminiscing, laughing, and crying.
Upon returning home, we began arrangements for her memorial service. In this process, I experienced a life-changing event. While talking on the phone with Anne's clarinet teacher, lining her up to play at Anne's service, she told me of a dream she had had about Anne. I immediately knew how to interpret her dream. It told me about the last time our family was all together in Florida for our nephew's wedding. The music she chose, told me about what our family had done the day after Anne was cremated. She told me that Anne's voice had come to her and said, "Don't worry about me. I am all okay." BUT, while I was listening to her, a huge light filled my kitchen. It consumed me! I had been crying almost 24 hours a day, and the light consuming the room brought a sense of complete JOY! It was like being drunk with JOY. Time stopped! But there was no gap in the conversation. I can't even describe accurately what it felt like. I could not see anything other than being in that light. The feeling lasted the whole day. Friends came to visit in the afternoon, and I enthusiastically said, "Come on in. Let's have tea!" They must have thought I had lost it. In a way it did feel like I was going crazy – but I KNEW I was not!
In August and then in October, two of Anne's friends reported more dreams. Each of these 3 people had to have the dream, remember it, and tell me the dream. None of these people knew each other. In their dreams, friends gathered and Anne was there too. They both reported, "I said Anne, you can't be here, you're dead. She took my hand and said, 'Don't worry about me. I am okay.' "   What were the chances of these dreams ending in the same words, reassuring me that Anne was alive in some form? By then, I was having an experience as portrayed in the movie Close Encounters of the Third Kind. I had to find out what I had experienced.
That first year was so hard!   I had been given a head start with the amazing healing power of the light.   I was still so sad…but I was learning to identify that God was walking this journey with me.
I faced a summer schedule of full time tutoring of young children with learning disabilities. I could not abandon them…they were counting on my help.  Jim had gone back to the church he was serving as an interim pastor, 150 miles away. We needed each other, but the demands of jobs were real. The minute the workday was over, I dissolved into tears. I cried my way home each day. I went out into my garden to pull weeds and yelled at God. The why question haunted me. Then it occurred to me that there was a better way. I had already been talking to God constantly, trying to understand. I began to listen to the voices of others around me. We formed a grieving committee that met once a month for a year. I will be forever grateful for their ability to let us cry, listen and reflect with us.
I made it through the summer. Fall came, and I started the new school year with my class. But a number of mornings were very hard. One winter day, I saw a beautiful sunrise out of my window. Anne loved sunrises and sunsets…I dissolved into tears and could not stop crying. Anne and her roommates at school used to gather on the big hill at St. Olaf College and watch the beautiful skies and talk about life and about the important matters in their lives. I made it to my classroom, but not until 11:00 and I looked terrible. But it was too tempting to just quit – I had to go.   As I walked into my classroom, 23 wonderful first graders, full of hugs, greeted me. Emily handed me a picture. It was full of color but I could not identify the content. I knew to ask, "Tell me about your picture." "This is the beautiful sunrise I saw out of my window this morning. I made it for you!" What were the chances of that? I was learning… God works in the most amazing ways. I was being told, "I am with you all the way!"
These events and revelations continued to occur. How was this happening? God, you have found so many ways to deliver the message. Anne, you are alive in some form! We are safe. God has told us, "I am with you always – all ways." I was thinking… here on Earth, our culture doesn't have things defined right! The "Valley of the Shadow of Death" is a time of closeness – a thin space between what we call heaven and us. I finally got it. I now KNOW – NOT JUST BELIEVE – that there is life beyond this one I am now living.
Within that first year, there was another experience that served to clear my vision yet another time. I got a call from a science professor from National-Louis University who was working with the Chicago Botanic Garden. They were offering a trip for teachers to the rain forest in Peru! WHAT! Anne was studying Animal Behavioral Sciences at St. Olaf. She was going to go to Peru… but she ran out of time… I signed up! When summer arrived again, I found my self hiking in the rain forest wilderness in Peru, near the village of hunters and gatherers and observing hand-sized tarantulas. Our accompanying Botanist, Cabeto, was describing the eco-system we were exploring. He was explaining the life cycle of the familiar Philodendron plant. It is a vine. In the rain forest, the seed falls to the ground. On the floor of the forest there is very little light. Once it sprouts, the tiny little vine has to grow toward a tree, with limited time to make it to the light. So it grows up the DARK side to CONSERVE ENERGY. It has tiny little leaves that don't even look like the Philodendron that we know.   But when it reaches enough light, it grows the huge leaves that we all can recognize.   Cabeto reached down and picked up the tiny little traveling vine and hung it on the bark of a tree as high as he could reach. I WAS STRUCK WITH UNDERSTANDING – literally like the light bulb going on! Energy was streaming through my body. It lasted for hours.
I had been living life at the level of this little vine, wandering around looking for the tree to climb to the LIGHT. Many experiences had taught me about God over my years of living. I was an active Christian. But I was conserving energy – I was walking in darkness even as I was so much a part of the church – involved in the stories Jesus taught to help me understand. The "darkness" of Anne's death, the dreams that told me Anne was okay, the experience of the light consuming the room, had been like Cabeto taking that plant and saving it tons of energy by putting the vine up high on the tree, ready to grow into the plant it was meant to be. I was now AWARE that I was in the LIGHT OF GOD, I had been catapulted into a whole new understanding, and I began thriving and growing into the person I was meant to be.
It has been 18 years and I continue to grow in understanding. Jesus turned my faith from WATER – a necessity of life – into WINE, a richer, more aged faith. Books have come my way, that I would never have read if not for this experience; people have come into my life that I know were sent by God. Also came knowledge, experiences, meditation, and God's word that pushed my understanding.   I read the Bible and I now say, "Oh I know what that means!" Now I KNOW that God talks to ALL of us, and I am now LISTENING and HEARING. When I encounter new ideas about God working in our lives, I am not afraid. I can feel God's energy within. I still get sad sometimes. There is so much more to understand, so much more to learn.   I still lose my way sometimes, but I am growing big leaves in the light, not wandering so often in the darkness of the forest floor.