Finding…PEACE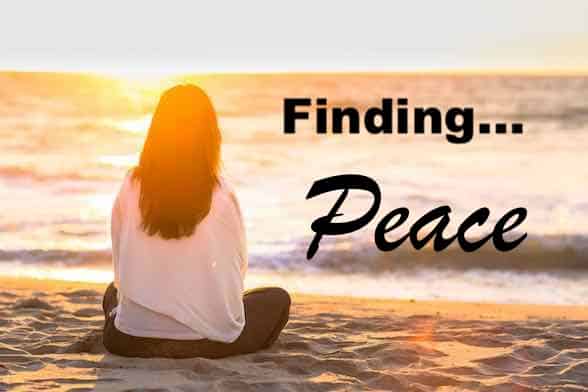 Finding Peace…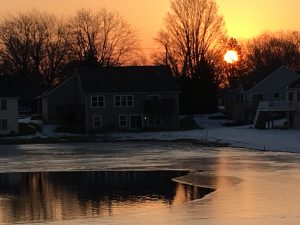 In the midst of winter, during a beautiful sunrise or sunset in any part of the world, or simply sitting in your favorite chair in your home…we can find peace. We have the "choice" in every moment of every day to ENJOY a peaceful moment. Every single one of us has peace living right inside of us. Our eyes can feast on something of our choosing and allow our mind to take us to that very special place within…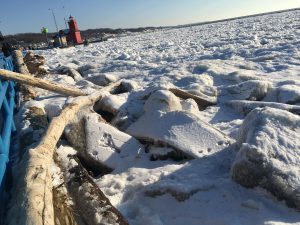 I've been a little too busy recently to stop and really TAKE a look as I spent 3 wonderful days with my two young grandchildren in Atlanta. Such active and busy little lives they lead and yet…each time I chose to stop and look really close in gratitude for being with them,  I could feel a moment of peace. It didn't last long, but that's okay. I was recharged and ready to laugh and enjoy once more! I couldn't help but take in the signals that "spring" was beginning to pop in Atlanta! I realize that in learning to meditate, I have trained my mind to stop, relax my breathing, connect to my heart as I express gratitude ~ all within a short minute as I take in something meaningful and find that moment of PEACE.
We just arrived in Florida and as I am writing, I stare out at a palm tree, a cloudy sky, and the simple thought that it feels good to be wearing shorts and a short sleeved shirt! My moment of peace.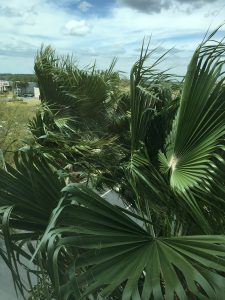 I have an OPPORTUNITY for you. Perhaps you've been wanting to learn the ins and outs of meditation by participating in a class!
I will be offering a unique Meditation Course during a four week time period at the Bodhi Tree Yoga and Wellness Studio in Holland, Michigan beginning May 14, 2020. My desire is to offer insights and in depth thoughts that help us understand why Meditation is so much more than a quiet time to rejuvenate in a healthy way. I will begin my series with some basic concepts, but stretch the participants right from the first session to go well beyond the basics. I will share my Near-Death insights into how and why meditation has been in my life for well over 30 years.
Each weekly session will begin with a valuable teaching lesson, numerous breath work techniques, a unique MEDITATION that will be different each week and a weekly handout that will include resources. I will provide ample time for questions, discussion, and sharing among the class members. The titles for each week are as follows: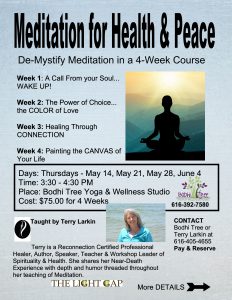 Here is the flyer that has been developed and will be posted and will be going out to many people in the Holland area beginning in April. BUT…I just wanted to give all of you the heads up in case you wanted to mark your calendars for a really special four week course that I know you will enjoy! You can click on the flyer and be able to read the details.
Meditation for Health & Peace
De-Mystify Meditation in a 4-Week Course
Taught by Terry Larkin
Days: Thursdays– May 14, May 21, May 28, June 4
Time: 3:30 – 4:30 PM
Place: Bodhi Tree Yoga & Wellness Studio
Cost: $75.00 for 4 Weeks   Call 616-405-4655 to Reserve your place.
Week 1: A CALL from Your Soul…WAKE UP!
The Basics and Beyond
NDE Stories from Terry – putting meaning into Meditation
Create & Nurture a Balanced Home Environment
3 Styles of Breath Work
MEDITATION narrated by Terry
Q & A Time
Week 2: The Power of Choice…the COLOR of Love
The Challenge: Emptying the MIND
Learn "BLESS ME" Method as taught by Suzanne Giesemann
Becoming a Human Bluetooth: Inner Listening ~ Communication
Breathing for Balance
MEDITATION by Suzanne Giesemann
Q & A Time
Week 3: Healing Through CONNECTION
Understanding the Healing Frequency
The power of the brain
The ART of Emotional Prayer
Full Body Breathing
Heart~Brain Intelligent MEDITATION – FEEL the Frequencies
Q & A Time
Week 4: Painting the CANVAS of Your Life
Understanding the Pineal Gland
You are the CREATOR of your Life – Mind Maps
Heart~Intelligent Breathing Practice
Kaleidoscope MEDITATION – as taught by Dr. Joe Dispensa
Q & A Time
If Interested ~ Week 5 will be planned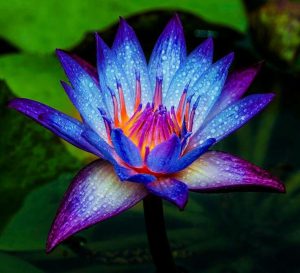 I hope you take time each and every day to STOP for just a moment and take in whatever small or large scene you might be able to feast your eyes on. Here's  a picture that a friend sent me via Facebook. I'm sure it was found on line…just to let me take it in and find that moment of peace! I loved just staring at it. Go ahead and print it..feast your eyes on the tiny details that are unique and beautiful in this flower.
LOVE and PEACE to all of you…I hope you know how totally amazing you all are!