Let Go of the Old, Let In the New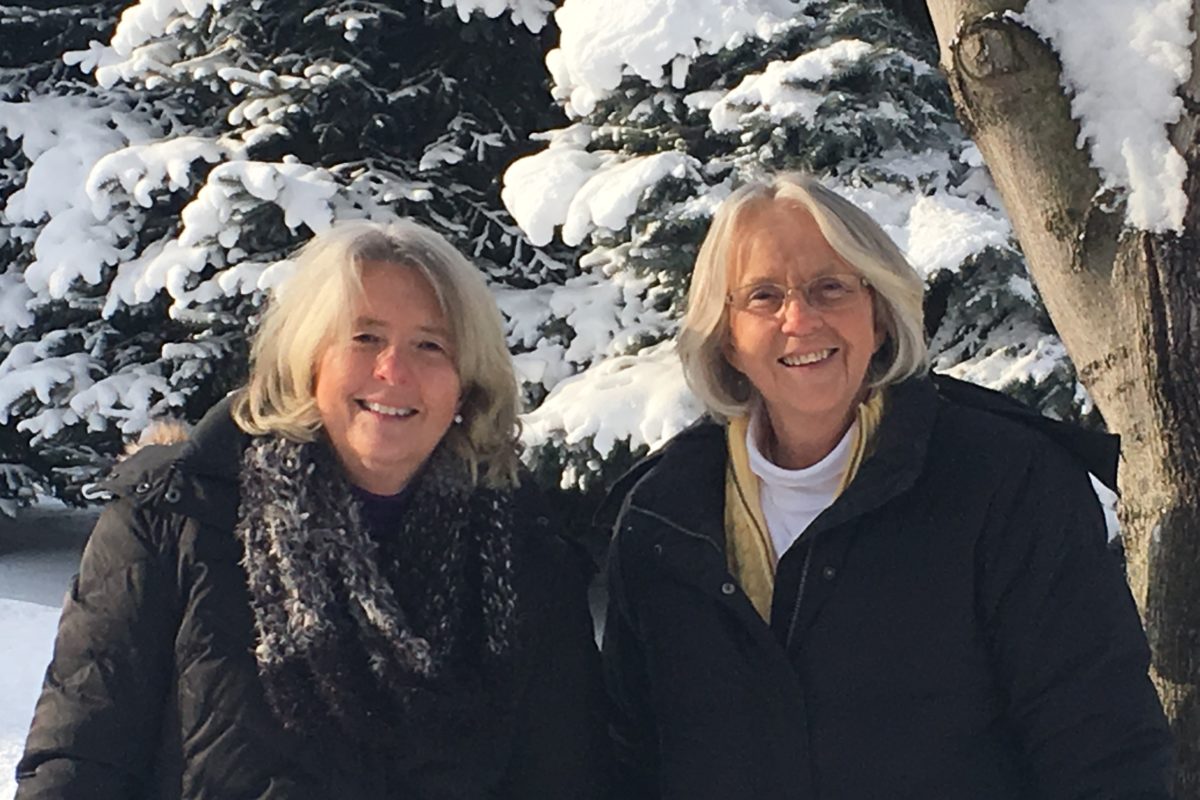 HAPPY NEW YEAR!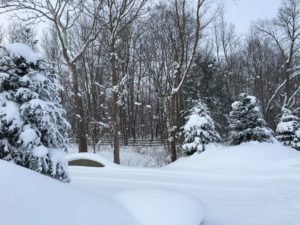 This time of year, the Midwest can be so beautiful.  With the cold that comes in, comes the freshness of the new fallen snow, and the brightness of the nights.  The full moon brightens the sky creating moon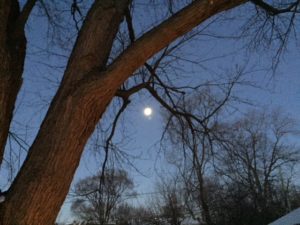 shadows as it shines through the bare-tree branches.  The beauty of winter can cause our hearts to sore! Winter brings many gifts.  It reminds us that times of dormancy and deep rest are essential to all living things.  Just like our lives, nature in winter shows us that what looks dead is really preparing for new life.
The promise of new beginnings is a mark of this time of year.  Many set goals for themselves – more exercise, more fun, better eating habits, increased kindness…   As an elementary teacher, at the beginning of each academic year I encouraged the children to consider the hopes and dreams that they bring to their learning journey.  And as teachers, we set goals to mark reaching these hopes and dreams.  Come January, we needed to reflect again and evaluate how they match our experiences.  What was successful, what didn't quite go as planned?  We generated new ideas and new goals. We problem-solved and "experimented" to bring about better results.
For those of us who are aware of the spiritual journey we all are on, we too may go through a similar process of trying on new understanding. What are our hopes and dreams?  We may take the January-newness-time to consider the purpose of the life we are living.  The promise of new beginnings is there for us, every moment of every day.  There is something about the darkness of this winter season that encourages us to be still, letting our mind rest as new insights emerge.  After a huge snow storm, the world around us is so quiet.  The snow around us absorbs the everyday sounds and we notice the difference.  Ah…the gift of silence.  Seek the silence!  Choose to meditate each day in the silence.  Listen for the small voice that whispers the call that breaks-open our soul.
The last few days I have been dealing with a frozen pipe that leads to our shower!  I had to let the few
drips coming from the source of the water, drip all day.  Then I had to follow the pipe to see what could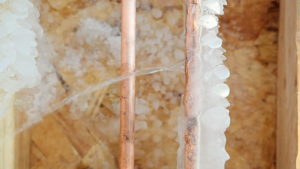 be causing it to freeze this year.  Well, we are experiencing an arctic blast for one thing.  But as I go into the back of the shower where I never go, where spider webs and old dust rule and the heat and light never go, I find that the pipes are very close to the outside wall – and perhaps the mice have been chewing on the insulation?  What is going to get this water flowing again?  What will free the flow?  Can I get it before disaster strikes if the pipe bursts?
Life is like frozen pipes isn't it!  Often all flows well.  Then tragedy hits, general life-blizzards occur, cracks in our relationships deepen, our health is challenged, anger rises up, and fear takes over.  Our heart feels broken.  So many things are weighing on all of our minds these days.  What is going to free the flow of our lives?  At times we are worn out, damaged to the point we can't even function sometimes.  What can change all this one asks?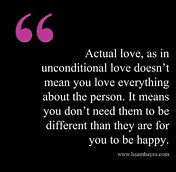 First, we have to ask ourselves the question: Who am I?  We are spirits in a human form.  We are here to learn that we are loved by God no matter what our actions are.  What matters most is not where we stand now, but where we are headed.  Our Light may be dim now, but it never goes out.  Your Light grows brighter as you give away love.  Every moment brings us a new opportunity.  One of our jobs is to love ourselves so that we can share our Shining Light with those around us.  God gives us unconditional love, and we can practice giving unconditional love.  We don't do this alone.  We are always helped, both by the unseen spirits and by guides in human form that show up and show us the way.  Fear paralyzes you. Love releases you to action.
My mentors speak, write, and publish books that inspire new goals and provide new understanding.  I will share a few insights.
From Wayne Dyer:  Practice only unconditional love for several days.  Only allow unconditional love thoughts.  Refuse to have judgmental or critical thoughts.  In the quiet time of your heart think only of peace and love.  Act in only loving ways.  Say "I choose peace" to keep you on track.  If you radiate love this way, people will begin to act differently.  Love is contagious.  You are not loving the hostile ways, you are loving the spirit that is blocked in those who are harmful and unloving.  Act in this way and you will experience the essence of your spirit. You will discover how to overcome limitations in your life.
From Neale Donald Walsch:  Every religion holds truth, each tradition is sacred, all times are holy. It is in the simple sharing of love that we make our beliefs come alive, and our dreams come true.  The old will defy the new; the old will deny the new; the old will decry the new. There is only one way to bring in the new.  You must make room for it.
From Richard Rohr:  St. Francis was a master at making room for the new and letting go of that which was tired or empty.  Jesus and St. Francis did not let the old get in the way of the new, but like all religious geniuses, revealed what the old was saying all along.  God makes all things new.  We live with half-knowing and with shared mystery.  Clear the fog.  Conserve what is worth conserving.
From Suzanne Giesemann via Sanaya: Fear; Identify the messages which speak contrary to the Truth that you have planted at both the conscious and subconscious level, that you continue to tell yourself.  As you find these, release them and replace them with powerful, loving words which speak to the Truth of who you are.  Fearlessness is a state of mind which becomes a state of being through practice.  Always light will overcome darkness.  Simply remain calm, trusting completely in the Light, and you will be guided safely along your path.
 From Parker Palmer:  The broken-open heart is a source of power as well as compassion – the power to bring down whatever diminishes us and raises up whatever serves us well.
In this New Year, may your "pipe lines" flow with love instead of getting frozen with low energy vibrations.  May you be blessed with the courage to let go of the old, and bring in the new   higher vibrations –  bringing joy, happiness and peace into your life.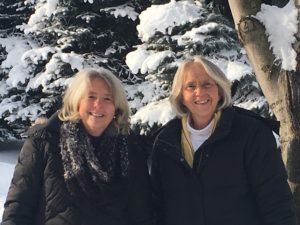 Sending Love,
Marj and Terry