Self Love is God's Love… A Fresh Look at Meditation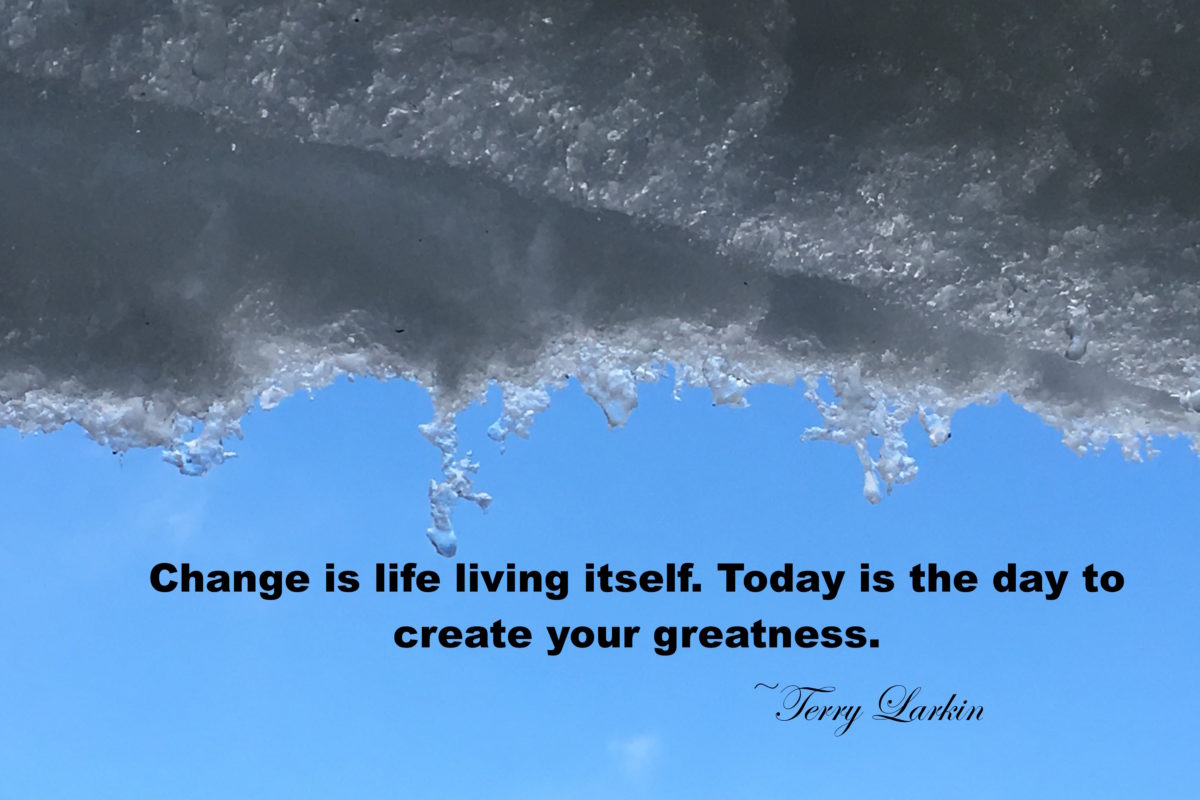 "In this New Year, may your "pipe lines" flow with love instead of getting frozen with low energy vibrations.  May you be blessed with the courage to let go of the old, and bring in the new higher vibrations –  bringing joy, happiness and peace into your life."  ~ Marj Steiner 
What a beautiful way to end our post last week. I hope you are already thinking of ways to let go, stay in the present moment and bring in those new higher vibrations! After many cold and snowy days, a bit of melting is coming into our view with drips emerging, hanging from the snow and ice. Nature is showing us that change is continuously happening in our lives. The sun and bright blue sky make us smile, but the drips and shadows cause us to reflect. What are we losing? That, my friends, is up to us to decide…just like in our lives. Meditation, mindfulness, going within and  connecting with the Divine daily are always our choices.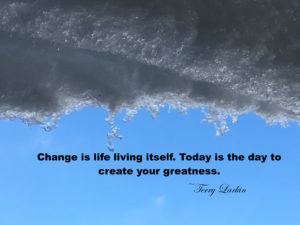 Quieting our mind helps us let go of the old and bring in joy and happiness, but it is always our choice to allow the peace to enter. Let's take a fresh look at an ancient practice that has survived for a countless reasons!
It is here…a good change! Our medical communities are finally putting their stamp of approval on the value of meditation!  It is featured in the news everywhere on national TV, pictures of our nation's children learning, and even the military teaching soldiers this amazing practice.
There is still a large percentage  of people who find the practice too difficult to fit into their busy lives, or they "believe" they cannot quiet the mind so why spend the time. Many think meditation will bring worry and anxiety over difficult situations in their lives. Some worry there is only one right way. They are saying, "it didn't work last time", so they gave up. Many times these same people are sitting in churches praying fervently with others, totally anxious over life issues, but they haven't yet embraced that God's love is living right inside of them.
GOOD NEWS…
You DON'T have to quiet your mind to meditate! It helps, but your thoughts are valuable as a learning tool! Don't wish them away. Embrace them and re-shape them.
There is NO one right way, in fact YOUR way is the best for you.
You can infuse meditation into your day a few minutes at a time. Gradually as you feel more centered with more energy, you realize you want to set aside a time.
There are practices to help "set aside" and learn from negative thoughts bringing amazing results.
FURTHER GOOD NEWS: Meditation CAN…
Bring peace into stressful situations
Lower blood pressure
Help you sleep and wake up well rested
Keep you energized to accomplish important daily work
Facilitate making better decisions throughout your day
Create an environment in your body to stimulate it's natural healing ability
Create pathways to connect your earth grounded mind to your soul
Open a channel for spiritual guidance; Invite in God's powerful network of angels to assist you
I have to share a funny story with you as I was first learning to meditate, trying to fit it into my busy life. I wrote the short version of this story in our book, The Light GAP, but I would explain it differently today. I've gained some wisdom in the ever growing spiral of knowledge. Deep meditation continuously validates some of the learning from totally amazing people I have met lately, and I'd love to share it with you.
I'm visualizing my days 16 – 18 years ago while teaching full time and directing student workshops abroad. I had learned how valuable meditation was, but my human ego kept dreaming up excuses of why my practice didn't look like what I had heard about. I managed to convince my one remaining high school son at home and my husband that after work a short meditation time was totally in their best interest! And indeed it worked, I was brighter, in a better mood, and physically ready to truly be present for them as a Mom and wife. But morning was quite another story. I was convinced I needed to be up at 5 AM to run, shower and be in my classroom by 7 AM.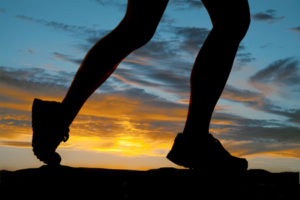 What a comical sight. I thought I could meditate while running, it was totally quiet and there were no ear buds back then!  I would turn on my meditation CD upon my return in the bathroom/bedroom continuing to meditate while I showered, dried my hair, curled it, and got dressed. I was dashing out to make sure my son was up, eating breakfast promising at least 10 minutes with him for conversation before we left.  You probably have a good prediction of the outcome, I thought I was a total failure at meditating. But in reality…
IT WORKED! I can only reflect back on that now with greater understanding. Back in 2002 I was laying the foundation for learning the ART of Meditation. I would desperately need it as my health crashed four years later. How do I know it worked? In the mornings I was running in the dark under large strong street lamps "talking" to God trying to ask some pretty bold and difficult questions. But the interesting thing was, I was getting answers! And…I was experiencing spirit for sure. My son is now 35 with two children, but still remembers the conversations about meditation.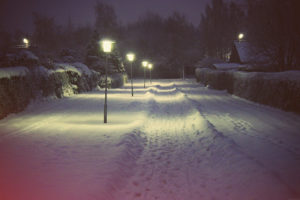 I was raising my vibrational level and running at the same time. This was when I started effecting street lights finding it fascinating. I started playing with them daily. About 8 feet before the lamp post,  off the light would go. As I went by it by about 8 feet,  the light came back on. Too consistent to be a coincidence. At first I thought perhaps it was someone in the spirit world having a lot of fun with me. "Mom, is that YOU?" Or, "Jesus, are you trying to tell me something?!" I had no idea why until I read in a significant book that lights, computers, watches etc. were often effected by people who had experienced NDE's. Back then I still had a limited understanding, thinking it was only an after affect of my NDE.
NOW I KNOW WHY! You could do it too…keep reading.
After running,  I'm in the shower with my meditation CD's blaring and so often I would have this download of information just flooding into my mind. I was so energetic by the time I left for work it was amazing. I had my lesson plans written in my head and many insights into my spiritual journey that was unfolding. I really kept thinking that it was due to my significant learning through Dr. Wayne Dyer, Neal Donald Walsch, Raymond Moody, Gary Zukav, Elizabeth Kubler Ross, Dr. David Hawkins, Deepak Chopra, Gregg Braden and countless others. And of course, that reading was totally significant, but it wasn't where the information was coming from.
I was being taught about the spirit world, by spirit.
The vibrational energy I was feeling in my body was incredible and I hardly described it to people, except Marj,  because I already felt a bit different. In 2002 I totally felt the energy, but I didn't understand it yet. Experience has taught me a lot. Now through many spiritual masters,  I have learned that water running over us is a great conductor of vibrational energy in the body making a great "antennae" to help us connect to the spirit world.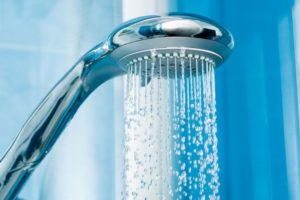 Enjoy your showers more…they can be amazing! Open to hearing something new!
Key:  Amazing insights usually came  AFTER getting back into life following meditation, but allowing the mind to continue. 
Remember the lamp posts… I know why they went off now. I tried it again recently.  Street lamps are on sensors, they come on at daylight, off with darkness. I was the light.  I had raised my vibration level very high merging with my angel guides, allowing my inner light to grow very bright. ALL people  have this ability to connect.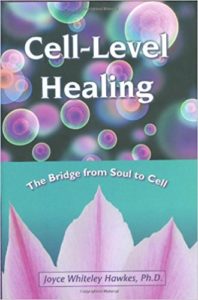 I was astounded recently hearing a similar story about lamp posts from Dr. Joyce Whitley Hawkes, Ph. D. as I attended one of her workshops!  She is an amazing cell biologist, years of astounding research about healing that excites me and matches with so much I have experienced. She  became a  healer following a powerful NDE. Her success stories in healing are well documented.  She could explain scientifically WHY our bodies are able to be that beacon of light, enough to turn off and on a light! She shares our ability to put that vibrational energy to work bringing healing to  bodies at the cell level.
Meditation today?  I do my Daily Spiritual Workout and quiet deep meditation first, then head for the shower. But, I'm still meditating while I get ready for my day. And yes, THEN I exercise! And now that I know and understand my vibrational field is working to help connect me to spirit, I am there every day listening, learning more and maintaining great health! I hope you will work towards letting your light grow in intensity!
Stay tuned! I'm ready to teach you many little hints to help make your meditation life easier and more significant! Remember, you are laying the foundation for an art form!