Peering Through the MIST…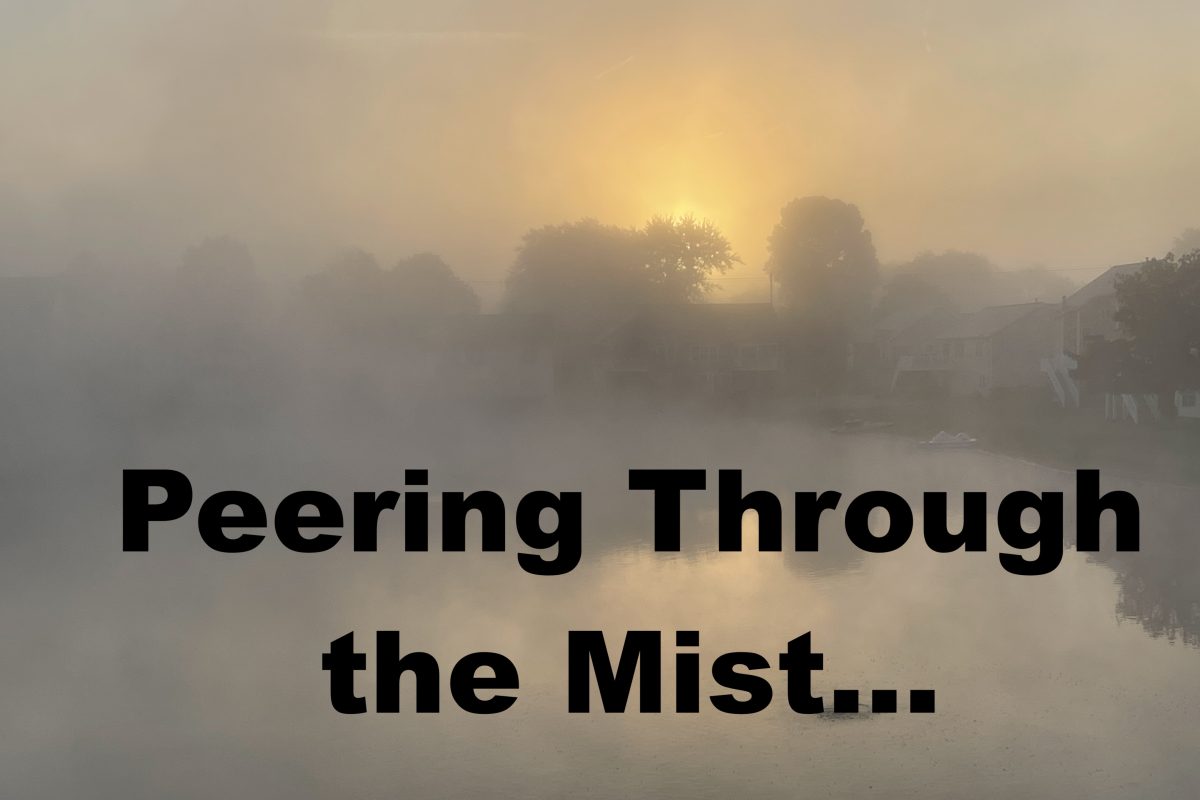 Peering Through the MIST

My whole mood totally lifted after such a simple exercise, I decided I wanted to share it with you! Marj and I talk about meditation a lot because we believe it is such a critical  part of connecting with our souls on a regular basis. Today, that meditation took on a different form.
It was in 38 degrees for the first time in our area last night. I was sitting on my sunporch as usual in the morning. It was dark so I lit a big candle along with a few small ones. I love the routine or ritual of "creating" light when there is not any natural light. When I looked outside, our little lake was absolutely in total FOG…I couldn't see the water. I found it an interesting exercise to simply stare at the gray mist.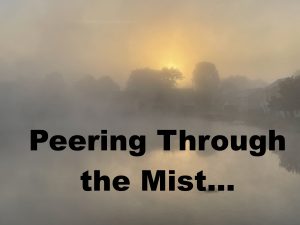 It quickly became obvious that the sun was actually OUT there…but filtered through a heavy mist of fog lifting off  the lake. I usually do my yoga first, but I thought, CHANGE is good for me so I sat in silence with my eyes wide open. Between the candle light and the gray mist I began to drift into a deep meditative state.
My thoughts drifted to some difficult situations that I have been having to deal with lately. I started to remember Suzanne Giesemann's wise words reminding me to simply allow the thoughts to gently BE.  I was filtering all of my negative thoughts through the love that I KNOW lives deep inside of me. And yet, I was not DOING the lifting. I could feel something lift inside of me without "doing" a THING!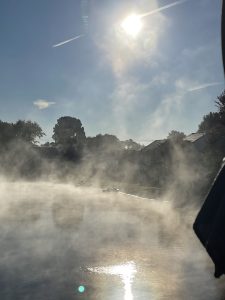 The FOG was lifting and dispersing into the sky. I was peering through the mist when the word, SURRENDER kept whispering in my ear. There was a surreal quality to it. I simply sat there watching the fog dissipate as the sun became brighter. I did nothing else. I didn't turn on music, I didn't say words, I didn't pray,  I didn't try to alter any of my thoughts. Now, looking back on this beautiful morning, I was simply BEING. Peace was the result of doing NOTHING!
Peering through the mist allowed my mind to stop trying to search for answers or try to "solve" anything. I realized how totally SIMPLE all of this really was and how easily any one of us can be in this state of BEING when we choose. During this peaceful time, I really did not even ask myself things like, "well, do you feel better now?" Instead it all simply happened.
I found myself getting up with a huge smile on my face and doing my yoga, stretching,  & breathing exercises with ease. I was smiling as Doug & I took off to go walking.  Not at any time did my mind try to flip me over to anything negative!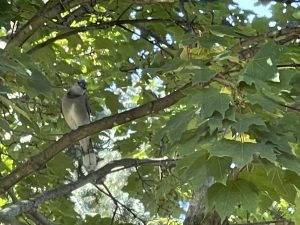 I'm also finding HUGE peace with blue jays visiting the tree outside my window in front of my computer. They have been missing ALL summer. But now they seem to visit every time I sit down at my computer to write on spiritual topics. Just now I had three of them flying in and out. OF COURSE, I can never get them to stay still for good pictures! I believe they are sent by "someone" in the life beyond! My second picture (bad as it is) makes them look like they are otherworldly!
Health is SO MUCH more than just the fix it job for our body's desires! When we feel peace slipping out of our lives, I believe our body is the recipient of our mind shift. It goes both ways, I can create more opportunities for peace, or I can create more opportunities for worry and anxiety. Shifting our mind isn't about solving difficult issues, it's about CHANGING our mind about HOW we are going to react to them! It felt SO GOOD today to simply allow that lifting to take place. And somehow, that frees my mind to make better decisions throughout daily happenings. It's beautiful!
Today, Neale Donald Walsh also captured my attention. I love the way he states so simply that our soul is not only eternal, but it NEVER wears down like our very temporary body housing our soul!
You might want to try PEERING through YOUR OWN mist! You don't need a lake to allow yourself to  surrender and let the mist and fog of your life to symbolically lift! Simply watching the light emerge around you, sun or no sun, can accomplish that same phenomena!
On this day of your life
Terry, I believe God wants you to know …
… that good health is not the absence of symptoms,
it is the presence of peace.
Do not confuse physical vibrance with spiritual vitality.
You are not your body. Your body is simply a tool.
A magnificent tool, for sure, but nothing more than that.
As with all tools, your body will from time to time need
repair. And one day it will wear down completely.
Your soul will do neither. Not now, not ever. Listen,
therefore, to the whispers of the soul,
not the cries of the body.