Thankful HEARTS…Happy Thanksgiving!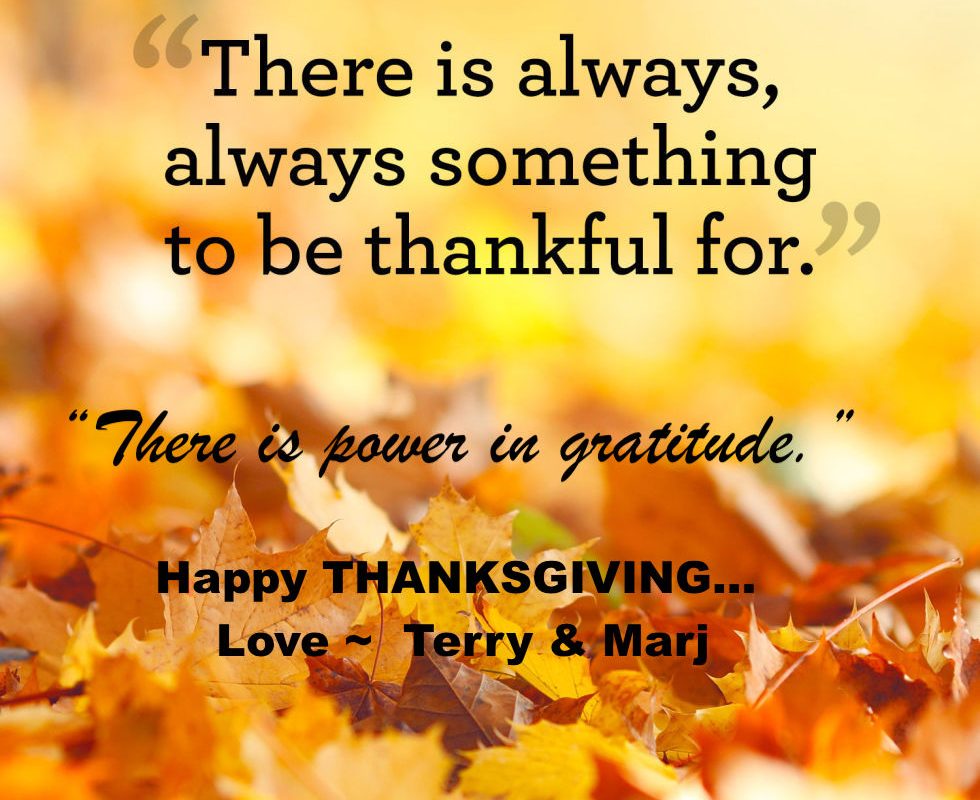 HAPPY THANKSGIVING!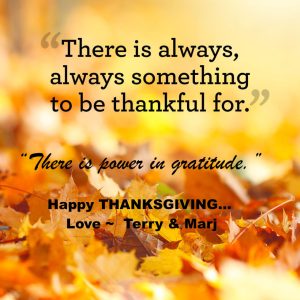 There is SUCH power in gratitude.  Thanksgiving in America only comes around once a year. But, TODAY…Marj and I are here to wish you and YOUR family, friends, and loved ones a very beautiful day and weekend. As we focus on our blessings, I know what an amazing power we hold within ourselves when we practice gratitude every day of our lives!
We are SO VERY grateful to each and every one of you as you read our blogposts every Friday and touch our lives in such incredible ways!
As you noticed last week, our usual FRIDAY post did not come out! Let's just say we are living in this very human shell called our body and we now know we failed to realize it did not come out! It is in pure gratitude for writing ahead that next week…we will be back to normal and you will be able to read our post called BEYOND Time and Space.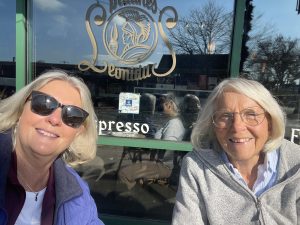 Marj and I recall some special moments in incredible gratitude to be together as I was able to be in Chicago on my way to be part of the live training for Reconnective Healing in Virginia Beach. It was a gorgeous November day and we even ate outside!
For the THANKSGIVING week we are both headed to be with our families and we are in pure gratitude for the opportunity to BE with family! Marj is headed to New York to spend Thanksgiving with her son Scott and his wife Christina! I am headed to Atlanta to be with our son Jacob, his wife Amanda and our two amazing grandchildren, Cade and Ellee. We will both be gone for the week.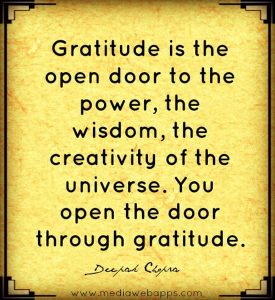 When we speak of the "POWER' of gratitude we hope you realize that YOU are in complete control of your thoughts even through the worst of times. In every single situation that is challenging or the most exciting of experiences…when we express the gratitude living in our hearts, the very powerful energy of LOVE greets you! Your body is the recipient of that beautiful energy.
Have a WONDERFUL Thanksgiving Day and Weekend! 
THANK you for BE…ing in our lives! You are a blessing to both of us in every possible way!
See you on Friday, December 2!