A MAGNIFICENT Gift…Workshop for YOU!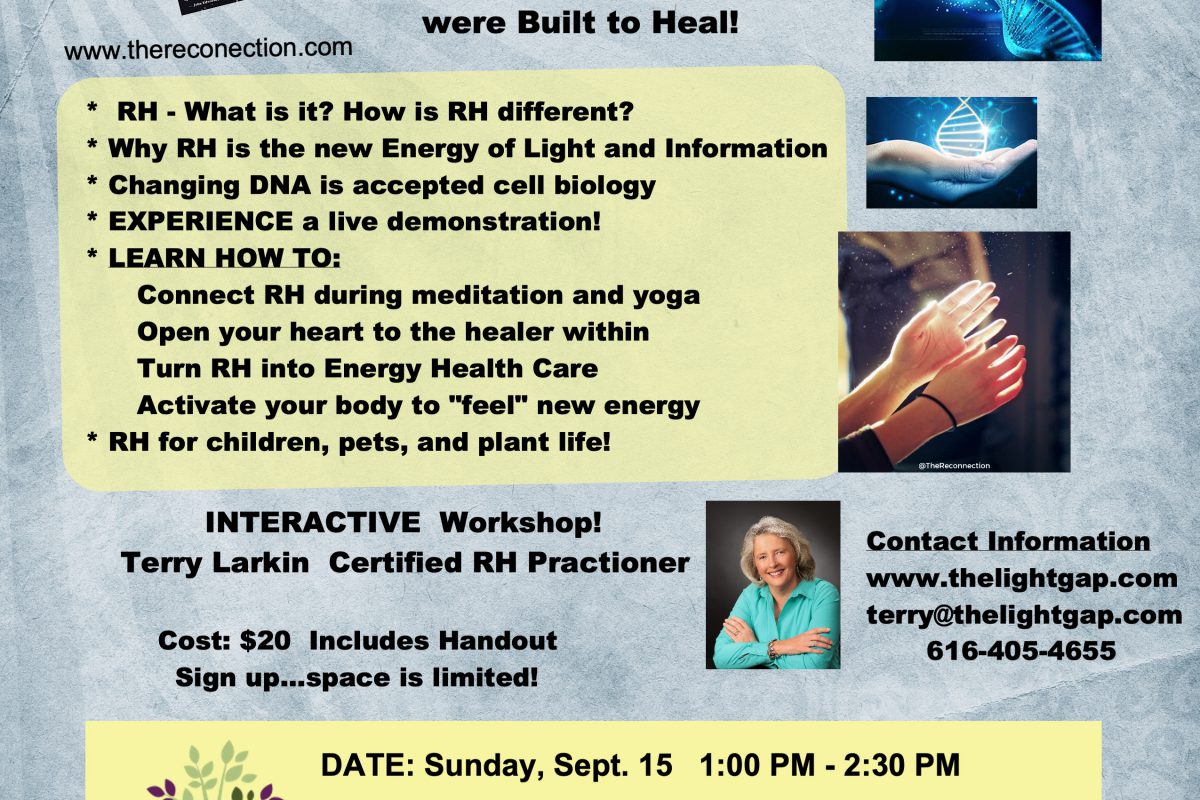 Reconnective Healing                                        A MAGNIFICENT Gift!
The title of my new workshop tells it all! Our world is right there waiting for us to open our lives to the GIFT of miracles! God created us in pure magnificence. We are in awe during the moments of awakening that have made a difference in our lives. My growth over years since my NDE in 1982 is now pulling together some amazing understanding.  I want YOU to learn how to do it for yourself this time! I want to help you "wake up your inner healer". COME…join us, it will be totally different.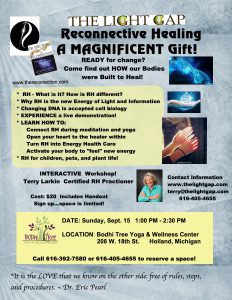 If you came to my last workshop, I barely skimmed the surface! I shared some of my learning about energy healing, but I didn't get into the really important concepts and techniques.
Date:  Sunday, September 15, 2019  1:00 – 2:30 PM
Cost: $20.00
Location: Bodhi Tree Yoga & Wellness Center
208 W. 18thST. Holland, MI
 Call 616-392-7580 or 616-405-4655 to RESERVE a Space! 
Payment can be made right on our website through PAY PAL. Click here for the connection…just scroll down a little and find the big orange button
Description of the WORKSHOP
Are you ready for CHANGE? Our bodies were created in love and connected to the universe allowing healing and optimal health to flow through us.
Reconnective Healing (RH) is a pathway to self-empowerment. We all have the ability to awaken our inner healer and activate our body's natural healing ability. Come find out HOW. Learn how to activate your body to "feel" the energy that has always been there, but new discoveries have uncovered the HOW and WHY.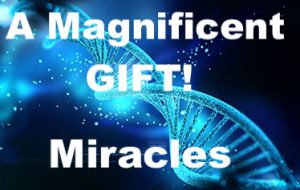 Are you wondering what RH is and why it is all encompassing with other healing modalities?  Come and you will EXPERIENCE it through guided meditation as we begin and close our session together. Spiritual awakening is totally individual and each of you has an individual signature in the universe. We will learn how to activate your OWN. RH opens the portal. The RECONNECTION allows for re-activation of the connection to our Source of creation, God. As we create an environment for Energy Health Care in our lives we can incorporate yoga, exercise, diet, and intuitive learning about life's choices that are unique to us!
Terry will be the interactive COACH as she develops her participant's knowledge and understanding of what healing is really all about. What does that word really mean? Terry will expand why we all crave the vocabulary necessary for us to move into the paradigm shift of awakening.  Reconnective Healing is a language…but a session has NO words or touch. Reconnective Healing information will be merged into active participation learning techniques.
Dress comfortably and be ready to get up and learn some new techniques. You can participate in whatever way your body will allow, from standing, moving or sitting in a chair. Terry will be looking for participants who might be interested in "experiencing" RH healing for demonstration.
I offer HEALINGS at Bodhi Tree Yoga & Wellness Center, I travel sometimes to people, AND I can ALWAYS do a Distance Healing for you!
Join us!  Call 616-392-7580 or 616-405-4655 to reserve a space for the workshop!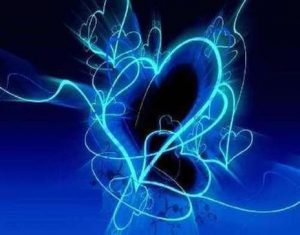 Through my love I offer YOU a gift…through LIGHT, LOVE, and Information!  Terry