Awaken to the Beauty in Darkness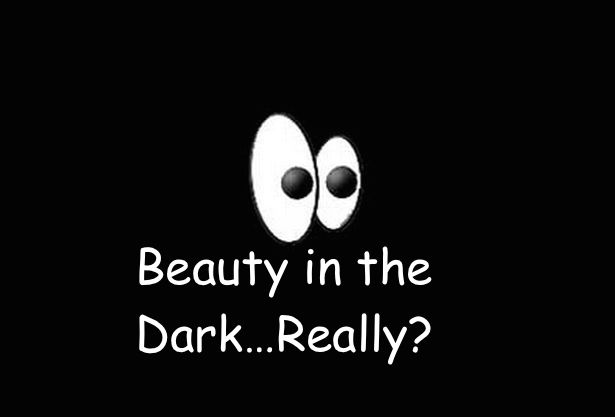 As spiritual seekers, when you open our weekly blog, I'm sure you must wonder about the title and what meaning will be uncovered. At the moment I am referring to literal darkness as I share an interesting recent event in my life!
Right now, my husband and I are spending a month in Florida, and about six weeks away from Michigan. We are basking in the ability to be outside in warm and sunny weather enjoying the beauty in nature. There is something spectacular about the brilliant sun against a blue sky with shimmering light dancing in the ocean water. I think my fascination is enhanced through the use of every sense we have dancing among each other. I am hearing and smelling the lap of ocean waves while feeling the warmth of the sun, as the taste of salt and sand wiggles between my toes!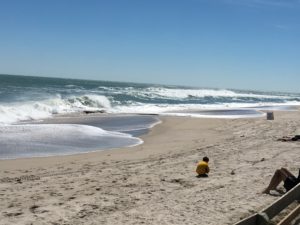 All of that is mingled in with the sounds of the pure love and laughter of children as they navigate the cold water without a care.
I became aware of the incredible expansion of our senses during my Near-Death Experience. I was feeling with my eyes  and hearing throughout my body and soul. It took processing to realize I was seeing, feeling, and hearing through indescribable sights full of luminescent light threaded in color unlike I had ever seen. Yet, I realized without any alarm that I was not in my body any longer! Yes, I was "thinking" all of this as spirit ~ pure essence as a being of light. I did not experience ANY darkness. I've often wondered if there is any darkness in the afterlife.
Yesterday, I was jolted awake by a sharp snapping sound at 5:30 AM. I realized with a start that I was in total darkness. I saw no digital numbers lit in blue on the clock by my bed, nor bits of light shinning through the shutters from streetlights outside  our bedroom window.
As I wandered feeling my way in the unfamiliar kitchen, my thoughts regressed to…oh goodness, where are the usual microwave numbers that have been greeting me each morning? It finally dawned on my waking brain…the electricity has gone off! It was obvious the whole area was out because there were no streetlights and I could see candle light flickering in a window down the street, but that was all! Looking up I  realized there were no stars or moon in the sky to greet me either! Interesting. We had been greeted by beautiful sunsets for so many nights. I must have gown totally used to the idea. Very few of us experience total darkness anymore.
Oh yes, memory kicks in…we had our first storm here last night. Total darkness, and you know what went through my mind? I will light my meditation candle that I had put in a dish of sand with the shells I had picked up and a unique rock. I'll enjoy silent meditation. I do that every morning. What has really changed?  A beautiful glow was brought into the darkened room! I smiled in joy and felt a beautiful peace seeing the lovely flowers I had placed near my candle and nature objects, until my ego mind thought… oh wait!
Coffee…oh NO!
Read my daily inspiration? Not enough light….oh NO!
Of course, next I stumbled  getting my yoga mat out. As I was rubbing a sore toe…
My PHONE…oh yes, I can use the flashlight and even have music through my earphones!
I can… I can't…thoughts floating through listing all of the "things" we take for granted. Disappointment in myself swept though me.
Then, "Awaken Terry"…it was my guides gently reminding me, WE are always here. God is always with us. Awaken to the beauty found in darkness.
I put my phone back where it was thinking, "preserve the charge", you may need it. Be simple…the sun will rise and bring with it the beauty of the day. I drank a nice warm glass of water, quieted my mind through yoga, and sat enjoying only the warm glow of my small candle dancing it's light over the sand and shells. So many people still live in a world where electric light is not available. I decided to savor the darkness and be grateful for my life instead of anxiety. This is a very simple example of how our lives can turn from peace to worry in a heart beat of time. We CAN change our thought and create the peace in any moment of our lives.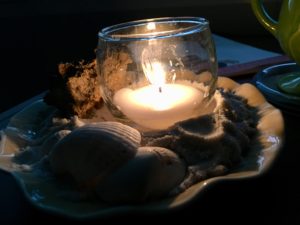 Silent meditation brought amazing light, peace, joy and beauty drawn from my soul into my body. Through contemplation about life in general, I was thinking that change is good. Savor it…NORMAL will return too quickly!
Five hours later Doug and I were realizing no coffee isn't the end of the world, a hot breakfast can be enjoyed another day, reading and conversation instead of news was a pure blessing. Our first cloudy day in weeks helped us appreciate the beauty of the spectacular sunrise this morning. And, again today, I allowed myself the luxury to…
Awaken to the Beauty in Darkness…in silence with God to "illuminate" my world.
Through my soul I could hear the amazing inner wisdom that is there for us regardless of how dark our outer world may become. I believe we are storing energy, using tools that will help us when life sends us a storm. So today as I went walking, I found a lovely piece of ocean driftwood. I'm sure it has been through many storms!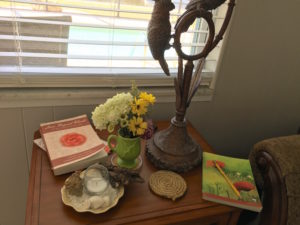 It is my reminder that we drift in life through our experiences in so many places, growing in our understanding of God's incredibly powerful gift of love.   We grow at our own pace as we "remember" why we are here.
Experiential Awakening…what God experiences are being sent to you?