Fall NEWSLETTER 2019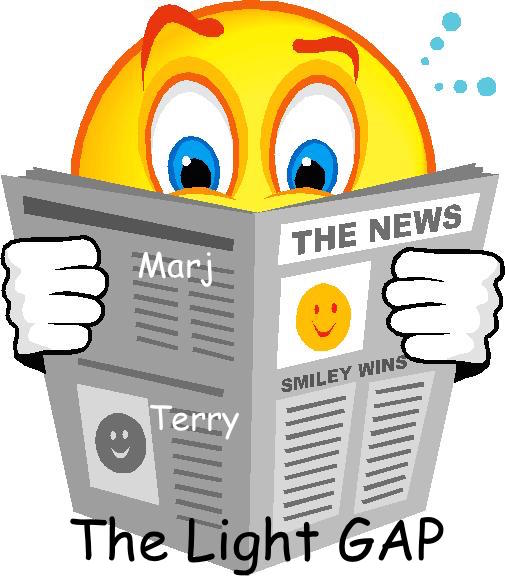 Fall, 2019 NEWSLETTER
What's HAPPENING  at the Light GAP?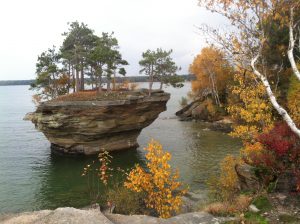 Happy FALL everyone! Depending on where you are, fall is already beginning to show at least some of it's "beauty" that  shows up every year! Our Earth's place in the Universe shows how it all seems to happen just like clockwork every year even though the clock hands may vary due to the imprint of man and it's effect on global climate change. It is another chance for us to marvel at the Intelligence in this God Force that is expanding and opening pathways for more LIGHT to emerge… The GAP of God's Amazing Presence in every aspect of our lives. Are you feeling the effects of more LIGHT into your life?
We are always humbled when we hear your news as you share how some of our insights have made a difference in your life. THANK YOU for sharing it with us. It means a lot as we process what is important in each of our individual lives. Both of us are expanding and changing just like you! All people's life journeys grow and expand because that's the law of the Universe. But, what form they take is totally your own unique journey.
NEWS from Terry Larkin and Marj Steiner
This fall season finds Terry sharing in another presentation about Reconnective Healing to a beautiful group of people on September 19, 2019 at Bodhi Tree Yoga & Wellness Center. This time I took a deeper dive into the knowledge that shows how and why it works, and shared a little more about Dr. Eric Pearl and how he discovered this new band width of energy! I did a live demonstration of a healing session and helped people interact with the energy. It was a totally diverse group with as many men as women, young adults, older couples and even a family with a 7 and 13 yr old. I was blessed to have another Reconnective Healer that lives in Rockford, Michigan join and help me make it very special for all! A huge THANKS to Steven Potes!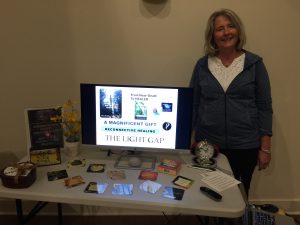 I also want all of you to realize that I now have a totally new power point presentation called from NDE to Healer: Reconnective Healing is a MAGNIFICENT Gift. It fits into a 1 1/2 hour time frame and I am more than happy to come share this with other groups that might be interested in hearing it! I can travel to your location, but I do need to charge to cover the cost of  the location, an extensive handout that is included, and travel. I found the cost of $20.00 a person worked perfectly in September. Everyone said they felt it was a very low cost for learning so much!
Like most all of us, there are challenges in my life right now as well. At the end of August a piece of my heart went with my son  Jacob, who had to leave his Police Officer job, his wife and our two grandchildren back in Atlanta as his Reserve Unit was called up to be deployed overseas . In fact as you read this, I have just finished having my two young grandchildren up here in Michigan for their fall break while their Mom, Amanda keeps teaching in a different district with no break for her! What a wonderful opportunity to share the love with these two beautiful children who will be missing their Dad terribly until next summer! They are a very close knit family…and we are all reminded of the difficult sacrifice our young men and women make for our country. I thank you ahead for all of your prayers for his safety and peace for the family as this year proceeds.
I'm also headed to Colorado and Texas this week! My husband Doug and I will fly out to see his 94 year old mother in Colorado, on to Texas for a week of vacation fun with life long friends, and then on to San Antonio to be with Doug's oldest brother who is suffering in the last stages of Parkinson's disease…another casualty of the Vietnam war and being on top of Agent Orange and not knowing or understanding the dangers of the chemical.
So, as you can see my life right now is one huge PRACTICE of putting my very own words into action in my life to keep my heart feeling the love of peace & understanding that we can all find within. My words repeated daily are for joy, peace, strength, and courage as I walk in humility, and unconditional LOVE for every soul in our world! I CAN do it.
This fall season finds Marj…finishing up her wonderful five months living within nature.  As I sit here writing on my laptop, I look out the window and see the beauty of the 100 foot Norway Pines, the huge hemlock, and a mixture of the hardwoods that fill the hill with the beautiful sun and  lake peeking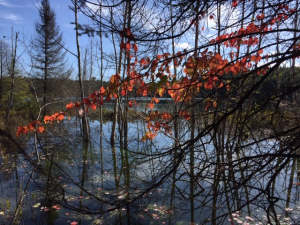 through the leaves. Beautiful fall colors increase each day…signaling the change of season upon us.  It is truly amazing how quiet it is here..bird sounds every once in a while, the sound of wind in the pines and more time in the day than not, that is all there is to hear.  Each morning that is not raining or below 50º, I head down to the lake to meditate at the end of our pier…and there is silence! Yes, a jumping fish or  the sound of waves every once in a while…but no planes flying over head, no machines to keep lawns in perfect order… just natural combinations of native plants and the lake with no ripples.  SILENCE has become a lost quantity in so many places.  When we went back to our winter home in the Chicago area for an event in July, I had to readjust!!!! It was so noisy.  I am very grateful to sit in this silence.
Yes, hard things happen in life here too…but when love and joy are put into the mix, peace is found.  Marj is also working on plans for leading  a set of four retreats – one each season – in the style of Parker Palmer's Courage & Renewal format.  This will take place at the Winnetka Presbyterian Church where we worship in the winter.  Also in the coming year I will be attending a Courage to Lead set of retreats in Parker Palmer's style in Michigan.  My dear friend Marianne Houston will be leading those retreats.  These retreats are designed to be a safe place for the soul to show up.  We will be working toward finding the hidden wholeness found within each one of us, allowing that shy soul to show up, helping us keep our soul and role together.  If this sounds interesting to you, Parker Palmer's book A Hidden Wholeness is worth reading.
GREAT Read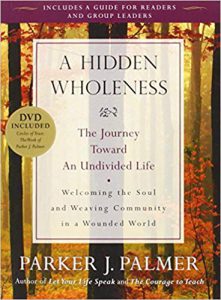 I too have been to Marianne Houston's Courage to Lead quite a few years ago. But READING Parker Palmer is a wonderful read! I have also read his book called The Courage Teach, which was excellent as well. But, A Hidden Wholeness is for ALL of us and on the cover is the "just right" picture for us…fall in all of it's beauty, but through a foggy film…just like LIFE!
A HIDDEN WHOLE: The Journey Toward An Undivided Life  ~ Welcoming the Soul and Weaving Community in a wounded World.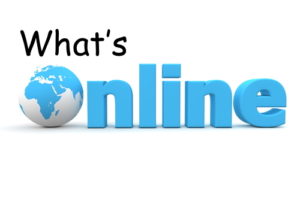 Spiritual Online World
In late summer, Terry spoke at the conference of the International Association of Near Death Studies (IANDS) heals in Philadelphia this year.  I could not attend, but I bought the opportunity to listen to all of the speakers on line!  The speakers are so articulate in sharing their near-death experiences, the struggles to understand what happened to them,  and the wisdom that they came back with and now can share with us.  I can't say strongly enough how rewarding it is to listen to these people speak.  Some are now famous, people Terry and I have been following for years  such as Eben Alexander and Suzanne Giesemann, and others are everyday people. These stories enrich and strengthen my KNOWING that God exists, that we all have guides and angles that help us, and they give me hope for the future.  If you are interested in listening to these people tell their stories and what information they brought back from their "death" you can go to conference@iands.org.
Did you know…
that true
healing

is the  "RELEASE" of neuropeptides in the area of the body where they have been lodged and reinforced over many years due to negative emotional responses to LIFE.

Neuropeptides are just a fancy name for a chemical mix sent to your body by your brain. If we are feeling negativity, anger, anxiety,  shame, or guilt in our hearts, that message gets sent to the brain and the brain responds by giving you exactly as you asked! That means if your heart sends beautiful LOVE for yourself, your brain sends a beautiful mix of healing chemicals to your body! Eventually, over time those neuropeptides get RELEASED from that lodged area that has been receiving them for years! We think of these as "weak" spots…whatever health challenge you feel often! So…self-love is critical to ongoing health! Send LOVE to those places that bug you the most!