The Swinging BRIDGE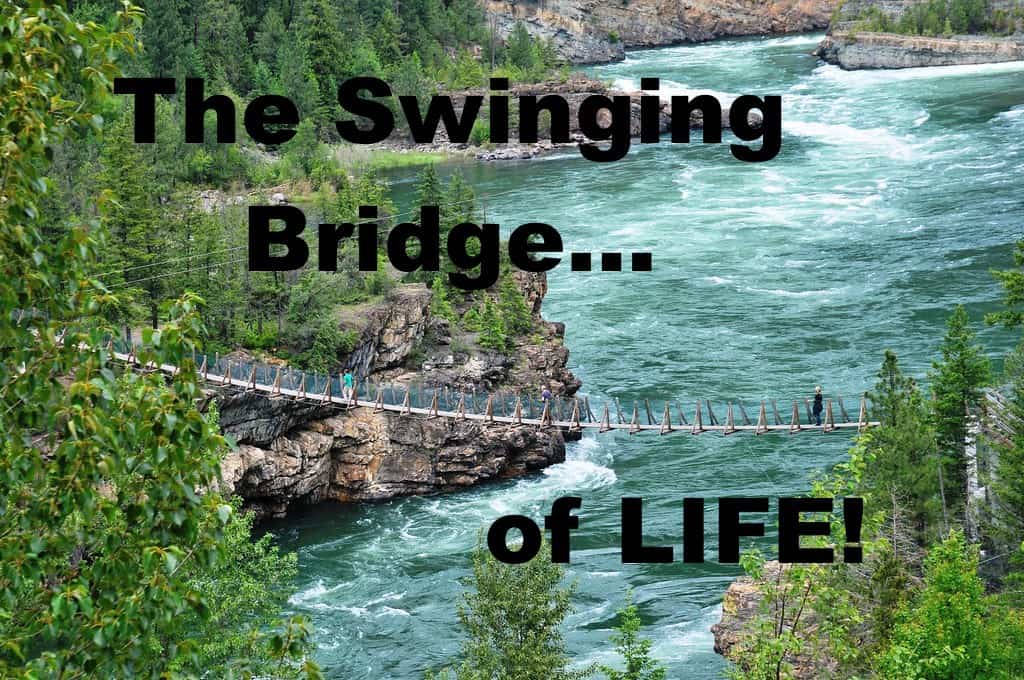 The Swinging BRIDGE…of Life!
I've often heard spiritually minded people speak of our heart as being the bridge between our spiritual life and human life. We've written many posts about how to go within and find the beauty and love found deep within that space. Our heart…what an amazing gift for our human self to cherish.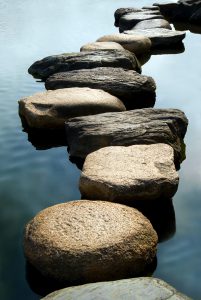 Right now I'm picturing some stepping stones as a bridge. It's like managing life as I quietly walk from a grassy edge across some beautiful calm water, as I take my time stepping from one stone to the other to ENJOY getting to the other side. I feel like this imagery helps me picture the quiet, beautiful place I find myself while in meditation and  in nature. My heart is feeling so calm. I feel my spiritual self as TOTAL and COMPLETE love, like I know my soul to be. My soul knows no pain, anxiety or fear.  So, I have a pretty stable bridge.
I start into my day and the calm water may quickly become wavy as life comes barreling in. My heart stays calm most of the time because I know ALL is LOVE…and I can choose to react in totally loving ways, even through the tumult. But sometimes, I hold my body a bit more tensely as I work through my day. That happens especially when I think I've got TOO much to do in a day that is not possibly long enough! Oh that pesky thought about TIME again. But, this seems like a pretty normal picture for my human life. I'm walking through calm and beautiful grass. Can I walk back over the bridge to the calm of my heart again?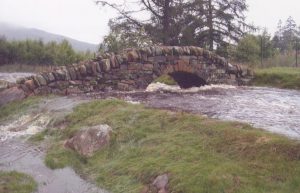 On the other side of the bridge, I suddenly find the only way back is over a very different bridge. The weather is changing. I'm picturing a bridge that takes a little more energy and stamina to keep my body calm while I navigate it! My thoughts are jumping out of my calm place due to crossing the bridge with rapidly moving water and fog that seems to be settling into my environment.
Can you flow with the imagery here and think of your LIFE path, ever emerging in different ways?  Think of the water and the weather as  events around you. We can NEVER predict what might be happening in our human life next, nor the weather! So…think of your walking hike over the bridges as a way of how your brain is operating. It's TRYING to predict various scenarios and outcomes! It's not always a pretty picture. Your brain is not your heart "talking", that's the mind's job. But your mind is filtering life experiences as well.
Have you ever walked across a swinging bridge? I know that one of the most scary ones that I have walked across was in the Southern part of Peru, where the Amazon was very rocky with lots of rapidly moving water and many waterfalls. We took our students to a camp called Tambopata. The first time there, I remember being amazed at how DIFFERENT the Amazon was here as compared to Northern Peru. One year, the heavy snow melt off the Andes was causing more travel difficulties than usual.  We had to get out of the boat we were traveling in and walk part of the way to another access point where another boat could carry us. Luckily we were only carrying backpacks, but we were still feeling a little loaded down, just like life can cause us to feel.  Well… let's just say we had to walk over one VERY swingy bridge looking below at huge boulders with water gushing and swirling around the rocks. I remember getting just a little nervous about our students walking over this bridge…one that would NEVER pass any safety inspection in the US! This time I'll have to ask you to view two pictures. The swinging type bridge  over calm water you see in picture one. Place that bridge under the man's feet walking over rushing water in the mountains! That was US!

Now, as you MIGHT imagine there are varying reactions to this adventure. The adults looked like they'd seen a ghost and the kids thought it was the best adventure they'd ever had! As their leader I had to swallow my fear, take a deep breath and put that knowing smile on while assuring all travelers… IT WILL BE ALL RIGHT! We can do it! And of course, we all lived to tell about it. But I probably wouldn't want to know the stories the kids told their parents at home!
Now, think of this story in spiritual terms.
If we hold the spiritual dimension and the physical dimension at a point of tension, we may find the awareness of the two pushing back and forth on one another just as most bridges do. When we push to the tension point in our spiritual life, we can receive blessings of new spiritual awareness and healing. At the same time, our appreciation for the sacredness of our body as a vessel to hold our soul, is pushed into the self care it needs and deserves. But, the pushing back and forth can feel VERY uncomfortable at times, just like the swinging bridge!  I really believe it is this swinging back and forth that takes us into greater understandings! We land on our feet eventually feeling even greater love. What if we never take a chance and cross that swinging bridge?
It's pretty easy to sit back and not challenge ourselves in either place! Sometimes our life just seems comfortable and so…why rock the boat? Or in this imagery…why walk across that swinging bridge! I think that is when LIFE swings the bridge FOR US and we are left wondering WHAT HAPPENED?  But, perhaps the tension is not bad. It may help us navigate both worlds at the same time! Physical life in the body is dependent on time, our spiritual soul is not dependent on time.  It is eternal.
If you hold the spiritual dimension and the physical dimension at a point of tension, you might find the awareness of the two pushing each other back and forth. Maybe it's in the swaying back and forth that calms the fear. If we embrace both sides of  our being, I believe we enhance our lives! We more easily value our environment ~ the physical beauty of earth AND our body living in it! Our lives might be richer if we embrace the duality of existence rather than debate the issue in our existence. What are YOUR thoughts? Please share them with us!