Wrapped in WONDER…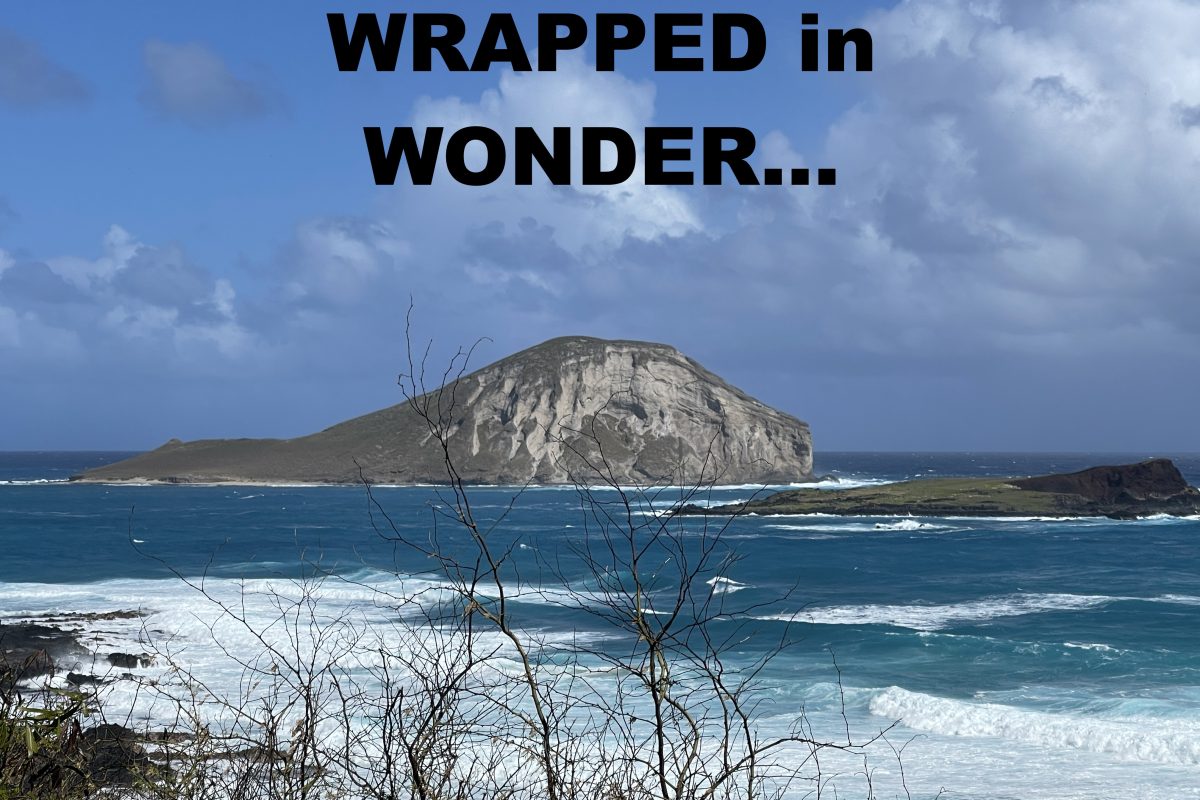 Wrapped in WONDER…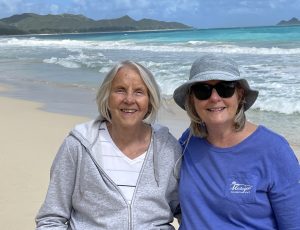 Marj and I walked the beaches of Hawaii together, over the hills and trails, watching for whales, driving all over Oahu  experiencing Hawaiian culture threaded through the amazing beauty of nature. We were with family surrounding each other in love through conversations, laughter, memories, and the love of new adventures. All of us were embracing each other through the love of GOD, moment by moment through care and compassion for each individual. All of our journeys in this lifetime are so totally unique to each of them ~ and yet threaded through both of our lives in such brilliant ways. As Marj and I have shared before, we each had 2 brothers and 2 sisters in our family.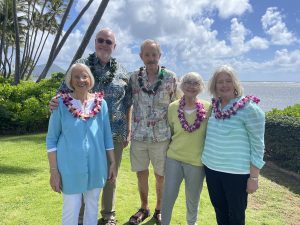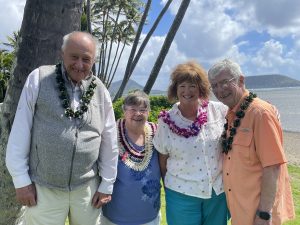 Here are the original ASHBY five! Well, I guess you could say we are a bit older now. All of us were there, including our husbands and wives with Jim watching from above with that twinkle in his eye through love for Marj.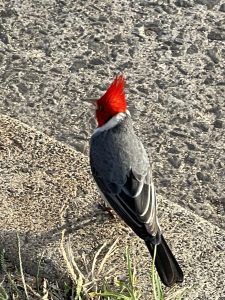 I  believe Jim chose a new bird to visit us often in Hawaii. We kept seeing this bird in many places including right out on the lanai in the trees out in back of our brother Jack and Mary Pat's beautiful home. But, finally as we were walking back to our car after experiencing Waikiki Beach…there he was walking on the sidewalk right beside us. I kept thinking his head was so much like the Blue Jays we both have seen often, but I did find out that this is a Red-Crested Cardinal! So gorgeous and a beautiful reminder that our loved ones are always trying to send us messages! And when that bird turned around and looked right AT ME…I knew! That's the twinkle in the eye of Jim.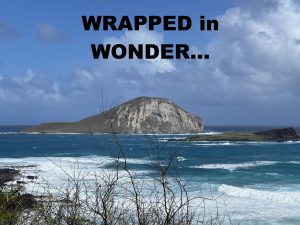 When I would stop and take a deep breath and be still for a brief moment ( the whole week) …the words I kept hearing were that our highest purpose in this life is to be a source of love and light for others! We're all in this together!
Yes, of course our family, but we are ALL here to be that source. There were incredible moments of beauty that helped my mind go into that place, but it was interesting that this "thought" would pop into my head at the simplest of moments…like when my brother Bill simply jumped into my picture at Waikiki. He's ALWAYS a source of light and love AND laughter for me.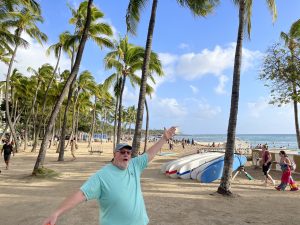 LOVE and LIGHT for others…that simple message wraps me in total awe and WONDER. 
When we open ourselves in awe and wonder…the beauty flows in no matter where we are. LOVE is our "creation mechanism" and  it lives so vibrantly when we allow ourselves to bask in that light and then give it away. LOVE always fills our body at this moment in time ~ and it is  Wrapped in WONDER. We talk of our spiritual self as BEING the I AM Presence that is eternal and forever with us. I was meant to walk this path on this day in Hawaii.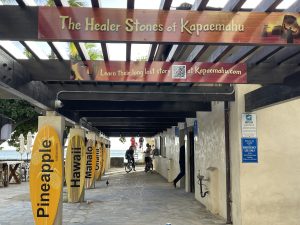 As we walked along in Waikiki we came across a place where "legend" met "history" in the Hawaiian culture. My brother's wife, Mary Pat wanted to MAKE SURE I saw the healing stones and heard about the mystery surrounding them. She knew that I would be interested in hearing this story. My pictures are not the best, but when I returned home I looked up the legend and again I was in AWE and WONDER. My life is complicated right now, and I keep asking if being a healer is still my path. And here I am, embroiled in a beautiful story.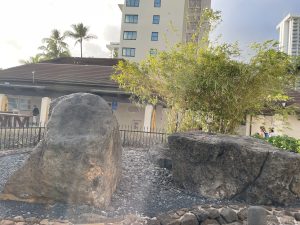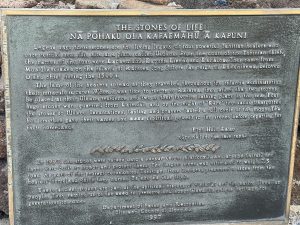 Kapaemahu is a moolelo~ a story that bridges the gap between history and legend. "It was passed down orally by the noble families of Waikiki and recorded in writing in 1906. Long before the reign of King Kakuhihewa in the 1500's, four Tahitian healers travel to Hawaii from their home Moaulanuiakea on the island of Raiatea…the healers were mahu ~ extraordinary individuals of dual male and female mind, heart and spirit. They were beloved by the people for their gentle ways, and their fame spread as they traveled throughout the islands administering their miraculous cures. The healers transferred their names and spiritual power to the stones, placing Oahu idols under each one. Tradition states that the incantations, fasting and prayers lasted a full cycle of the moon. Then the healers vanished and were seen no more." I challenge you to go to this website and read more for yourself at www.kapaemahu.com  There is fascinating information there for us all about the power of healing, the legend and the history! When we open our mind to what MIGHT have been real about this story…it comes alive! So often LEGENDS do have truth and often changed when people began to add their own interpretations.
AND think for a bit…idols would have put off any Christian thinkers of the time. BUT, dual male and female mind, heart and spirit? Brain studies now show we have both states within ~ Ying and Yang! Their gentle ways…wow! We know healers HAD to have existed in early times…Jesus spoke that same language when we listen well! There is so much to keep us in WONDER.
I know part of the LIGHT that I am sharing with others is the unbelievable healing that I've experienced and loved through Reconnective Healing. I strongly believe that Doug and I would NOT have been able to be in Hawaii with our family  recuperating after being hospitalized with a very difficult and complicated pneumonia for two long weeks without Reconnective Healing. We had some VERY talented and loved medical doctors that provided the expertise needed. They too were amazed at several junctures in his recovery. I arranged three of my Reconnective Healing Instructors to do healings for Doug, spread out with days in-between. There were undeniable signs of healing that took place along with the antibiotics and all the incredible Health Care Professionals at Holland Hospital. God sent incredible people and to me, healings were part of the whole!