Embracing CHANGE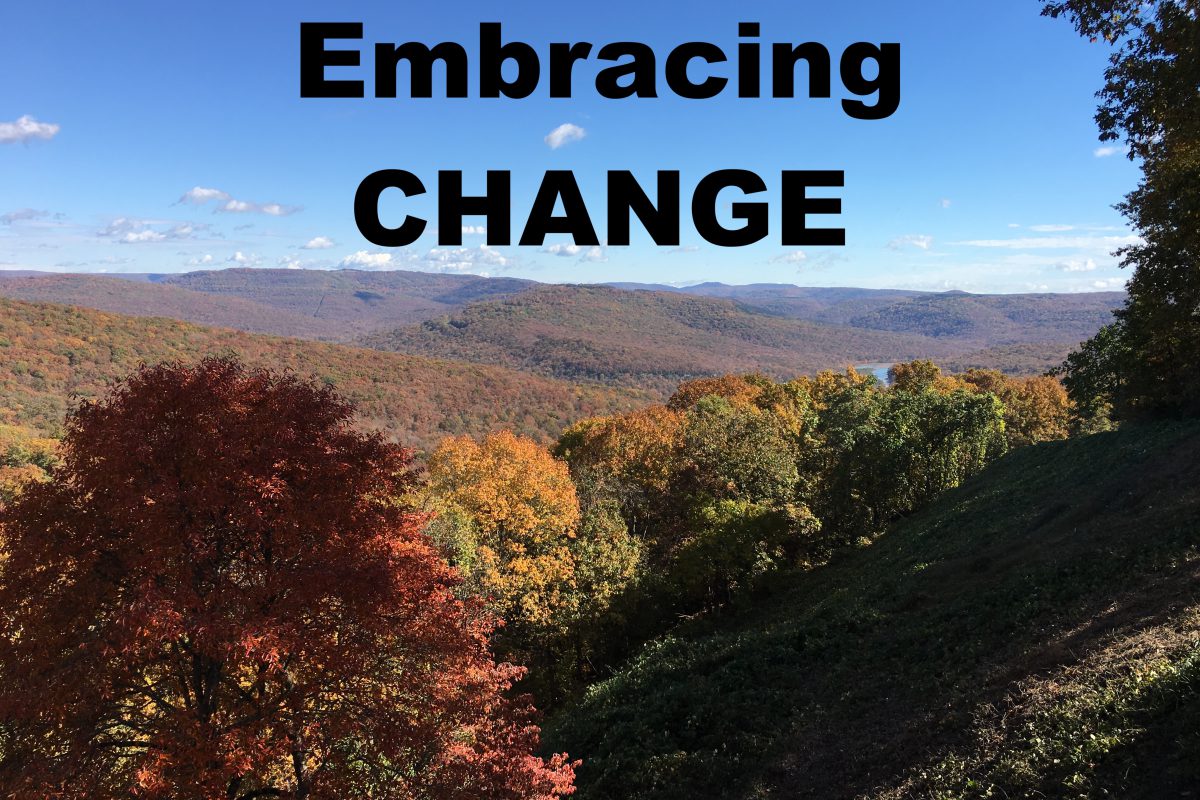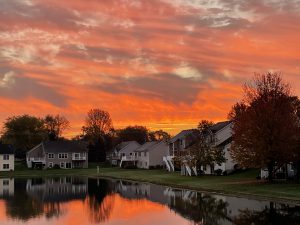 Our SOUL yearns for the JOY we came here to experience. CHANGE is happening all around us in nature for sure. It is always interesting to allow ourselves to BE enough in a present moment to take it ALL in. The REDS filter the joy in my heart, the oranges bring peace to my soul, and the yellows simply LIFT me in strength to help me EMBRACE the change. I know all too soon it will be WHITE floating down, which of course has a beauty all of its own. This sunrise greeted me one morning this week with blue sky following very quickly. We call this AMAZING change and we love it!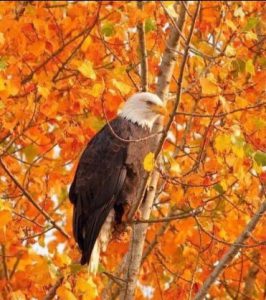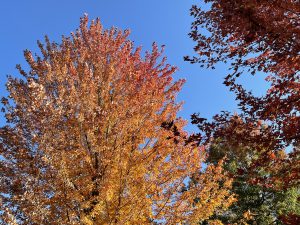 Recognizing the emotions that can envelope me, sometimes just the "thought" of change can bring out unwanted thoughts! But then I remember…I am NOT my thoughts. I can change them ANY time I want. Sometimes I CHOOSE the path to accept my thoughts as they come and other times I CHOOSE to divert away from a path that is somehow leading me in the WRONG direction. At other times I simply have to STOP in my tracks and NOTICE what is happening. But, over time I have realized there is a key to help smooth my path…AWARENESS.
It seems pretty easy to fall into the trap of PREDICTING the future or RELIVING the past. And for some reason too many of THESE types of thoughts are less pleasant than the ones I COULD be creatively dreaming up. I know I can CHANGE that, but very often we focus on where we HOPE to get and forget there is so much to ENJOY along the way!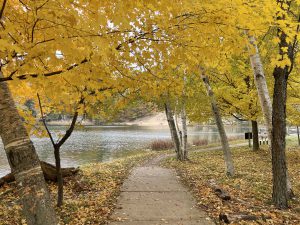 My whole life has been a series of changes, and for some reason there has been this AHA moment this week as my husband and I took the two weekend days to simply  BE out into the amazing color, sun, and warmer than usual days. There was renewal of joy, love and peace building strength within us. We let our days simply unfold. We let go of any preconceived notions about what needed to happen. We had an AMAZING few days.
As always we need to pre-plan future EVENTS with our family and friends if we expect them to happen. The upcoming holidays are a great example. BUT…lets shift gears. Life goals or challenges are vastly different from planning a Thanksgiving gathering. What if we simply LET GO of any thoughts about how or why our life might change and allow it to unfold naturally. Is it easier to embrace the change?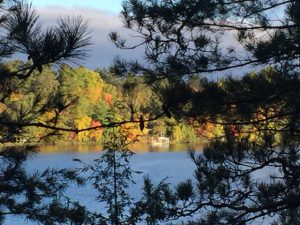 Marj and I can now look back on five years of our lives since October 2016 when our book, The Light GAP: God's Amazing Presence was published!  I believe I've been ALLOWING my life to change and grow without any agenda. LIFE is about CHANGE. It was only a short year later in January of 2018 when I was introduced to Reconnective Healing.
I recognize only now that I did simply let go and allowed the unfolding of a pretty major change in my life! Some would say I've worked hard to be where I am now, but I recognize a FLOW that simply kept unfolding and happening.
Here you can listen to a short video about how MY life has changed.
You should see the video play button, but if not you are able to click here and connect to YouTube ~ short video
BUT… my message isn't about ME…it's about all of us. What do you SEE and VIEW as you ponder your life? Have you had an intuitive WISPER in your life? This isn't meant to be an exercise about any kind of regret because if there is not really a destination…how can we fail? We simply grow more in love with LIFE.  Even with turmoil we can EMBRACE change because as we allow life to embrace US…we find peace in the letting go process. The complexity of the web of life God has created to help all this happen is hard to even imagine.
"The awareness of who I AM is profound. But, so is the AWARENESS that I am ONE with something much greater in scope. We have all touched the intimacy of true presence." ~ Terry Larkin