The Light GAP Expands: VIDEO BLOG
The Light GAP is expanding for Terry Larkin and Marjorie Steiner!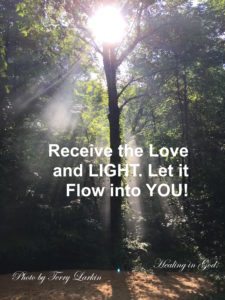 Come enjoy hearing our voices as we spoke to an audience at the Unity Church in Grand Rapids on Monday, January 22, 2019!
The Light GAP: God's Amazing Presence was written as we were  sharing the seeds of growth that resulted from LIGHT crashing into our lives unexpectedly. For Terry Larkin it was through her NDE in 1982. For Marj Steiner it was through her LIGHT Experience (STE) that enveloped her in light in her kitchen following the death of her 19 year-old daughter. All of this brought change into our lives. And we have heard from many of you that YOUR lives changed too after reading our words or spending time hearing the stories.
But, what has been happening since that time? While our book was released in October of 2016, we had been writing together since 2013! Our book shares the journey of understanding and research over many years ~ each seed embedded inside of us grew and expanded over time. But, we are all on a journey of a lifetime growing our soul within the confines of our human body. We always keep growing and expanding in so many interesting and wonderful ways.
Today we share the growth and understanding that has expanded in years after we began writing our story! We still have miracles threading our lives and new information that is arriving to giving us more insights! This still comes in all forms; from within, books that arrive, people that we encounter, webinars, and amazing individuals we have met through our speaking.  Coincidence? Not at all.  And of course that produces change in our lives once again. For Terry, she is now sharing and offering new healing insights she has learned about energy healing through her training with Reconnective Healing,
In this video you will also hear Terry explain her now active practice as a Reconnective Healing ® Certified Practitioner! You will experience the growth in Marj as she shares her Light Experience once again. If you are not seeing a live video feed below with a button to click on that connects you to YouTube. *See instructions below to view the video!
nbsp;
We know that sometimes individuals have problems with a video arriving into their inbox or on their phone. So, we have three different ways you can view and listen to this video. Set aside an hour…you will be very glad you did! YouTube has made some changes, so we had to create a new channel for The Light Gap. If you have a minute to hit the subscribe button that would be awesome! And there is a comment section below the video that you can add a comment or hit the like button. All of these actions help to get the word out about our writing and speaking. Thank you SO MUCH! We really appreciate your help.
In LOVE, LIGHT, and INFORMATION
Terry & Marj
*Video can be viewed by clicking here, Wake Up and LIVE in Health 
*Video can be viewed on our website under videos. Right now it is the first video under our picture.  Here is a link to the video section of our website. Video on www.thelightgap.com
* Go to You Tube and type in Terry Larkin with The Light Gap