Trust What IS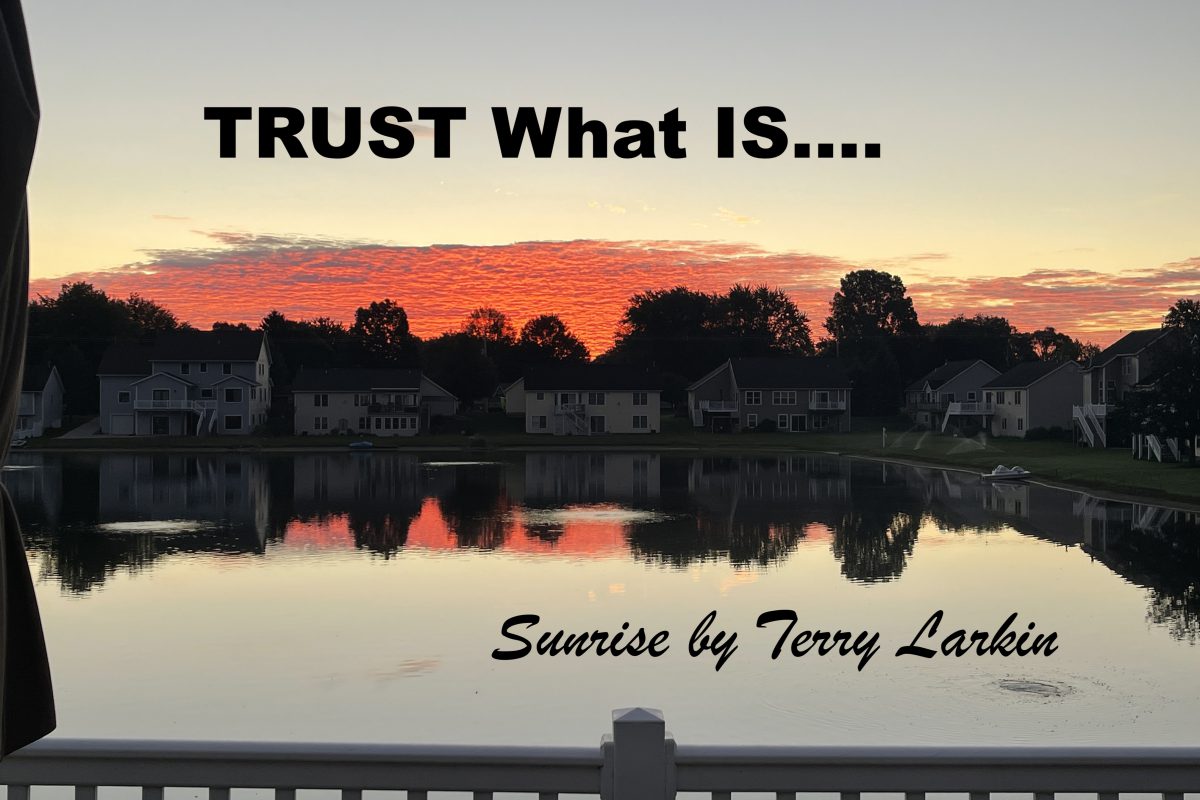 There are times in our lives that we can find peace within by simply trusting what IS. I have understood this concept for a long time.  Yet, allowing myself to Just BE in trust…is an ongoing learning process for all of us living in a human body with outside influences continually. Oh yes, that is every single one of us on this planet. Hmmm.
TRUST. I feel and experience the LOVE of God always, and I feel that I TRUST the love is always there, living within me every moment of my day. I can have exquisite moments of JOY, but the feelings and emotions that travel through me can alter that JOY. Can it be as simple as reminding ourselves to TRUST?
At the end of last week I was listening to a YouTube Video that Suzanne Giesemann had put on her Monthly Newsletter called News and Notes Along the Awakened Way . Her monthly topic for September was Angels and Answers. I thought, wow, that's a coincidence that at our August Spiritual Circle our topic was angels. Marj shared what a rich conversation was had about angels and I missed it. And yet I chose the picture…and guess who it was? Archangel Michael.  Coincidence?
Archangel Michael is Real…This Story Leaves No Doubt!  is the name of Suzanne Gieseman's video that I listened to from her news. I had heard this story from Suzanne before, but somehow it just REALLY touched my heart in a new profound way. She is such an amazing role model of following her intuition and her total TRUST that she will get evidence somehow in her human life that confirms what she was wanting to know. You might REALLY enjoy listening to this story. She talks about how she knew that some of her own guides were angels, but she never REALLY believed the concept that there were Archangels. But she had an experience of receiving information that confused her. I LOVE her honest, easy way of sharing her doubts as she shares what happened to her after that, complete with pictures to SHOW this astounding experience. It is a model of TRUST!
Click here if you are interested in hearing it. This will connect you to the YouTube story. She models how difficult it is to TRUST when something conflicts with long held beliefs. Do our limiting beliefs keep us from TRUST?
"This is Coherence…it's a GIFT." Frequency" was also discussed in a beautiful way. Antennae's…that help us tune into frequencies. I've  used that same metaphor in my talks to explain how it is we connect in the spirit world and how I CONNECT into the energy field for Reconnective Healing.  If you listened to the video you heard her say she heard these words. Coherence, frequency, antennae…Those words…are POWERFUL . The STAR Tetrahedron, that painting she showed of the star with Archangel Michael, really stuck in my mind. I loved how she FOUND the Hebrew she was looking for in the Bible. So, I went to the Bible my parents gave me that came from Jerusalem when they traveled there. I love the Olive Wood Cover on it. Just seeing my Dad's handwriting inside the Bible and dated 1981 made my heart skip another beat. Just a year before my Near-Death Experience.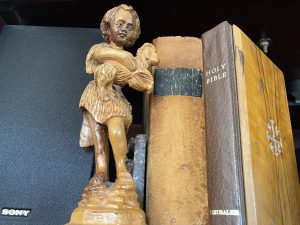 Hebrew 13:2 – Be not forgetful to entertain strangers: for thereby some have entertained angels unawares
Suzanne Giesemann reminded me of a story about a happening in my life I told you about in our book, The Light GAP: God's Amazing Presence. It's too long to relate here, but you can read it in our book on Page 76-77. It's about the "strangers" I met and talked to in the Amazon…that no one saw or heard but me. I now know those were angels, there to teach me… how to open up to communication with the spirit world. The experience DID open me up in an incredible way.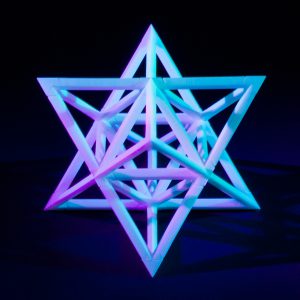 Today as I was meditating and I had an experience. I was visualizing the 3 dimensional STAR Tetrahedron because I learned how many people visualize that star as they meditate or use as a Holographic image of our "antennae" to the spirit world. And here was Suzanne saying she used that concept! I have a Reconnective Healing good friend, Adja  that lives in the Czech Republic. She is an architect that is totally into Sacred Geometry and she is always telling us that our world is mathematically driven using Geometry.  She believes all spiritual connections were built into our universe through creation. On her website she often posts very fascinating articles.
This morning I just happened to click on her Facebook Page, and there was a scientist  talking about the Tetrahedron and why it is sacred and relating it to the frequencies it generates each and every angle!  Coincidence? NO. He was reminding me that crystals are totally made up of tetrahedrons and that our BODIES have crystals all over!
So, as I went into silence I was using that image and wondered if purple would show up like it often does as Suzanne mentioned…and maybe I would have an experience with Archangel Michael! I tell this story in all humility…because I am still processing it all. I was sitting there when all of a sudden I could feel a breeze and I thought…wow where did that come from? I was not outside, but inside on my porch. The breeze got stronger and of course the first thing I did was look around…feeling angel wings? It got stronger. I looked up…and all on it's own my ceiling fan had turned on! Now this is not easy to turn on. It's not the switch,  you have to push hard on one of those gray buttons.
I closed my eyes, saw a huge swath of purple, my body was vibrating wildly and I just felt in total awe processing what message was there for me. TRUST WHAT IS…kept popping in my mind. Hence the title of this post. But, in all my humanness I had to go to the bedroom, find my husband sitting up in bed reading and ask if he had come out behind me on the porch? Did he turn on the fan??? He said, "what in the world are you talking about?!" Well, there was my answer.
TRUST…I am human and that part of me said,  "question" first.  Sound familiar?. Did I reach a level of frequency that made it come on? Did an angel make it happen to WAKE me up? Did I feel the presence of Archangel Michael? I'm still processing, but I thought you just might enjoy the very current STORY! Yes…follow those leads and TRUST. By the time you read this I will have a KNOWING! I know  JOY and LOVE moved in!